Wieniawski Philharmonic Concert
Saturday, March 05, 2022, 07:30pm

This concert is supported in part by a grant from the Wisconsin Arts Board


with funds from the State of Wisconsin and the National Endowment for the Arts


and financial contribution from the Polish Heritage Club - Madison

THE POLISH WIENIAWSKI PHILHARMONIC ORCHESTRA
with TOMASZ RITTER, piano
Based in the city of Lublin, the Polish Wieniawski Philharmonic is the largest music institution in eastern Poland. The orchestra began forming in December 1944 - soon after Lublin was liberated in July 1944 - and gave the first performance of chamber music on February 10, 1945. Its first symphony concert held on May 18, 1945 was the first symphony concert in post-WWII Poland. Since then the orchestra built a repertoir ranging from Baroque to contemporary compostions and performed with many world known soloists including Sviatoslav Richter, David Oistrakh, Nigel Kennedy, Wanda Wiłkomirska, Rafał Blechacz, Kevin Kenner, and Vadim Brodski.
Check the orchestra's website for more information about the ensemble and its director and principal conductor, Wojciech Rodek. Information about the pianist, Tomasz Ritter, is available below the picture.
This is the first US tour for the orchestra that previously performed in Italy, Switzerland, Spain, Sweden, Germany, South Korea, Denmark and Ukraine. The tour began on January 12, 2022 in Florida, and after 60 concerts all over the US, it ends in Edgerton on March 5, 2022.
Location: Edgerton Performing Arts Center
200 Elm High Drive Edgerton, WI 53534
►map of location◄
TICKETS are $35 per person
They must be purchased ONLINE or by phone at (608) 561-6093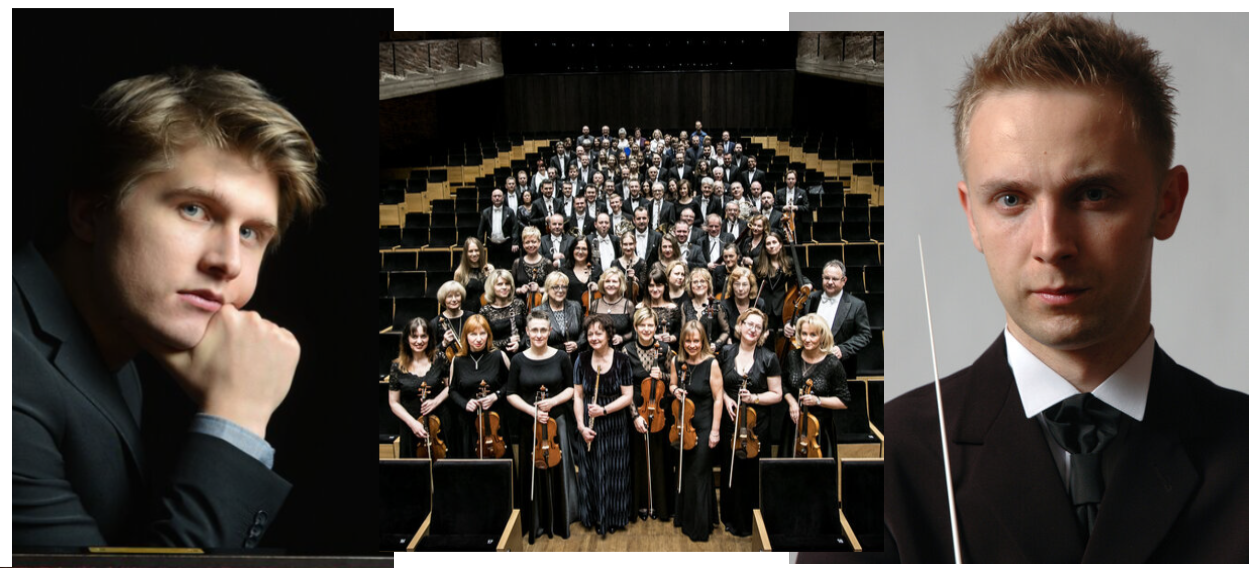 From the event website: Tomasz Ritter – born in 1995 in Lublin (Poland). A graduate of the Moscow P. I. Tchaikovsky Conservatory in the class of piano and period piano of Alexei Lubimov. He also studied with M. Voskresensky (piano), M. Uspienskaya and A. Shevchenko (harpsichord). He graduated from his studies with honors, receiving the title of "The Best Graduate of 2019". From October 2019, he continues postgraduate studies at the Hochschule für Musik und Theater in Hamburg in class of professor Hubert Rutkowski.
In September 2018 he became the 1st Prize winner of the 1st International Chopin Competition on Period Instruments in Warsaw. In 2011 he won the 9th International Competition of Young Pianists "Arthur Rubinstein in memoriam" in Bydgoszcz, also receiving the Prize of Aniela Młynarska-Rubinstein and Ruby Pin of Arthur Rubinstein for artistic personality. He is also a prize winner of many other competitions. He was nominated for the "Polityka's Passports" award (an annual Polish cultural award presented by the weekly magazine "Polityka" since 1993) in the "Classical Music" category. He is also the winner of the Artistic Award of Elżbieta and Krzysztof Penderecki (2018) and the scholarship holder of the "Young Poland" program (2019).
He began his education with B. Bechta-Krzemińska at the K. Lipinski Music School in Lublin. In 2008, he became a student of Irina Rumiancewa-Dabrowski at the K. Szymanowski Complex of State Music Schools in Warsaw. He participated in master courses, including with V. Merzhanov, T. Shebanova, A. Kouyoumdjian, K. Kenner, and A. Jasinski. He also gained experience in playing old instruments, collaborating with Petr Šefl from Prague and courses with J. Sonnleitner, U. Bartkiewicz (harpsichord), M. Bilson, A. Steier, T. Beghin and T. Koch..