author: IRENA FRACZEK
NOT TO BE MISSED....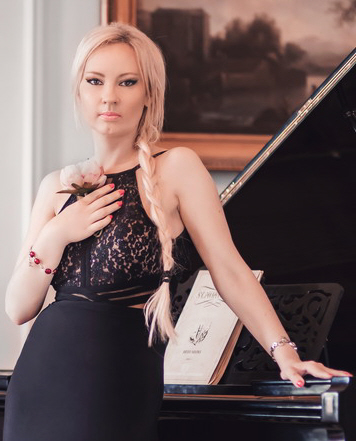 The month of May promises to end on the high note when Polish soprano Dominika Zamara comes back to Wisconsin with two concerts bound certain to enchant and bedazzle.
"A Night in the Opera" will take place on Thursday, May 25 (6 pm), in the beautiful Pulaski auditorium. The concert will feature also Scott Ramsey, a highly regarded soloist now on the faculty at the DePaul University's School of Music in Chicago, IL., as well as a local choir.

"An Afternoon of Arias and Art Songs" will feaure on May 27 (1 pm), in the UW-Milwaukee's Helen Bader Concert Hall. The pianist performong along Dominica will be Juan Pablo Horcasitas, one of the most versatile musicians of his generation, now on the faculty at the Wisconsin Conservatory of Music.
Both events are free and open to the public.
To learn more about the artists and locations of both events, please visit our calendar entries for May 25 and May 27 respectively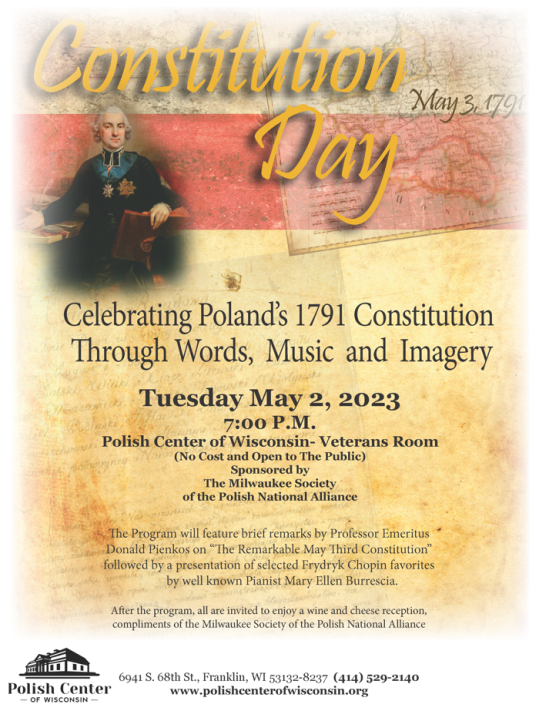 LAST MINUTE REMINDERS:
Celebrating Poland's 1791 Constitution Through Words, Music and Imagery
This celebration of Polish Constitution Day will take place in Polish Center of Wisconsin (Franklin, WI) on May 2 at 7 pm.
The program will feature remarks by Professor Emeritus Donald Pienkos on "The Remarkable May Third Constitution" and selected Fryderyk Chopin favorites performed by Mary Ellen Burrescia.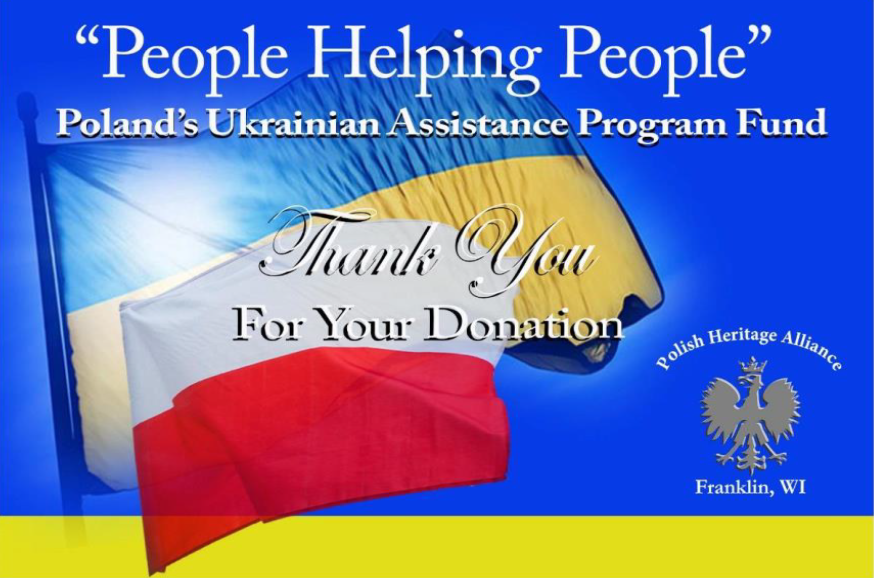 On May 5 at 1-3 pm, all members of our club are also invited to the award ceremony and appreciation party for the "People Helping People" campaign collecting funds to support Poland's assistance to Ukrainian refuges. Our club made substantial contribution to this fund last year.
Heading a delegation from Poland, Mrs. Malgorzata Gosiewska, Deputy Speaker in the Polish Chamber of Representatives will be presenting formal acknolwedgments. The event will take place in Polish Center of Wisconsin (Franklin, WI).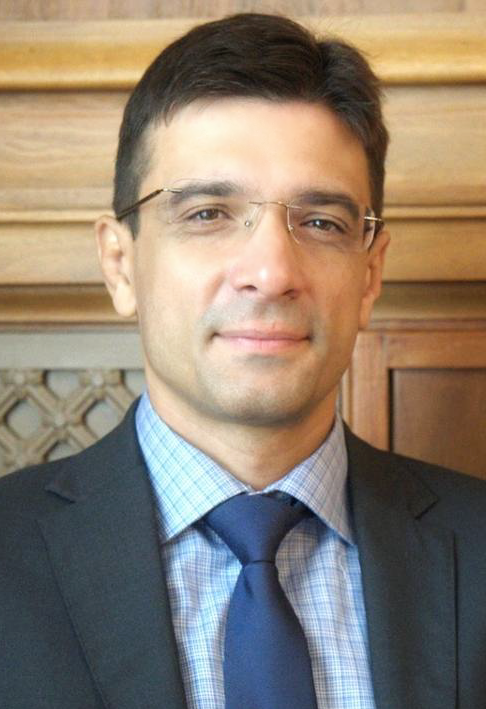 Everyone is cordially invited to the State Capitol to the Consul General in Chicago, Paweł Zyzak.
A meeting with Polonia (anyone with Polish ancestry) is scheduled for 1:15 pm to 3:15 pm on April 20 in the beautiful Senate Parlor in the Wisconsin State Capitol.
The Senate Parlor is located on the second floor of the South Wing, next to the Senate Chambers.
Paweł Zyzak is an award-winning Polish historian, scholar, academic manager, enterpreneur, journalist and writer - perhaps known best for his biography of Lech Wałęsa, the legendary leader of Solidarity..
Click here to read Paweł Zyzak's biography on the consulate FB page
-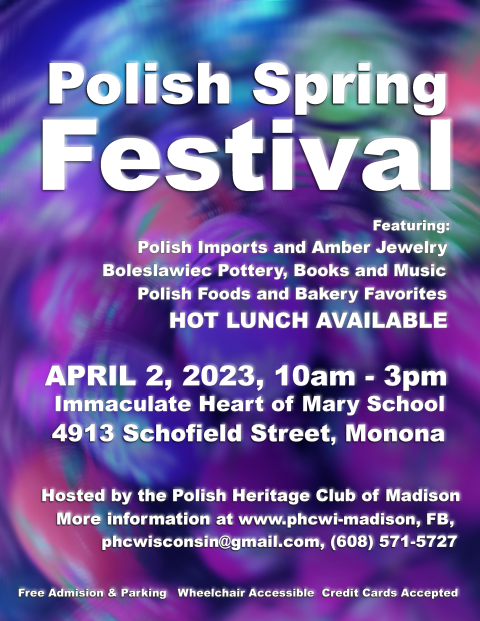 Click on the picture above to see the 2022 Spring Festival photos

Download the 2023 FOOD PREORDER FORM here

Click on the red title OR the photo above to see pictures from the PHC Wigilia , where we shared OPŁATEK (Christmas wafer), exchanged Christmas wishes, received a visit from Święty Mikołaj (Santa) and enjoyed other Polish tradtions.
Visit our PHC BOOK PAGE and Madison Polish Film Festival
for the books we read and Polish films we watched recently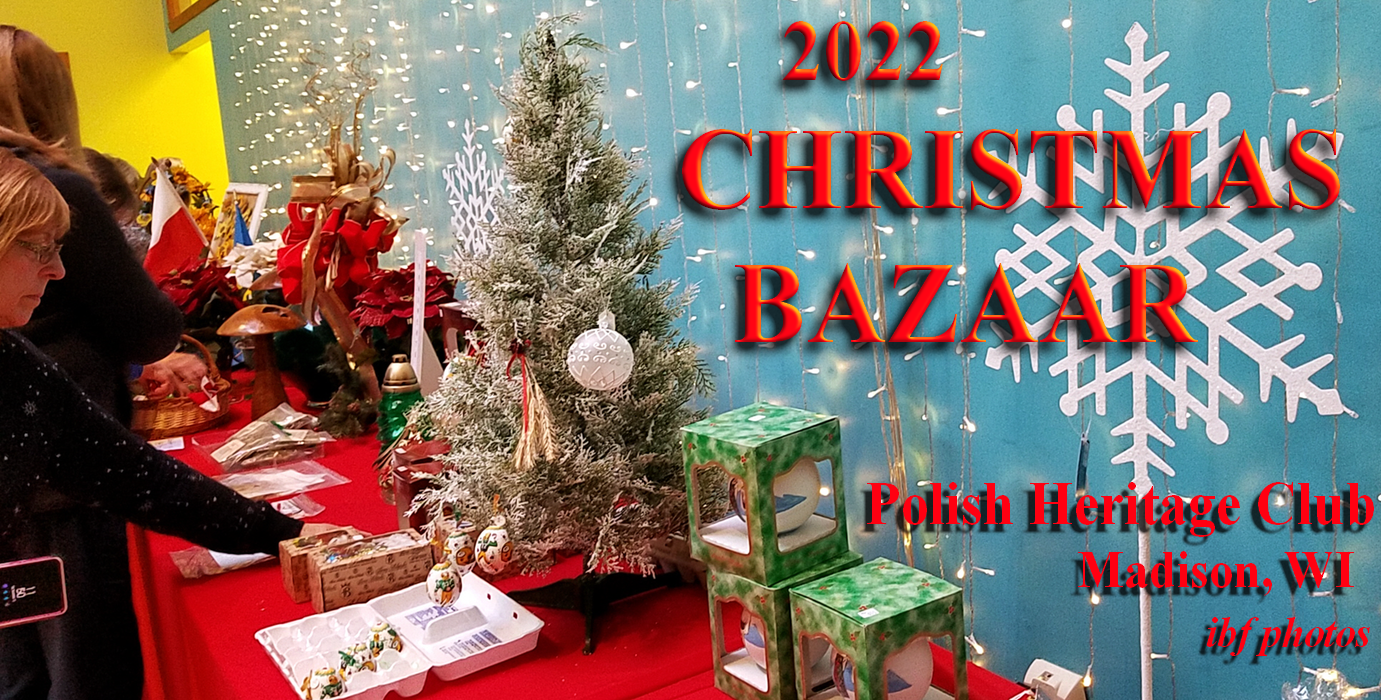 ......
Big crowds visited our Christmas Bazaar on November 12 to shop for Polish amber jewelry, Bolesławiec pottery, books, various goods imported from Poland and Polish food (mostly from Chicago). Many also enjoyed awesome hands-on demonstration (paper cut-out, Christmas cards, etc), live music and Polish lunch with the choice of pierogi, kielbasa, gołąbki (cabbage rolls) and much more. To see the photos and the life music video, click on the image above or on the red text below.
2022 CHRISTMAS BAZAAR PHOTO GALLERY

..........