Polish Soprano in Milwaukee
Saturday, May 27, 2023, 01:00pm

NOT TO BE MISSED....

AN AFTERNOON OF ARIAS AND ART SONGS
featuring a renowned Polish soprano
DOMINIKA ZAMARA
and Mexican concert pianist
Juan Pablo Horcasitas
perform works of V. Bellini, F. Chopin, W.A. Mozart, P.Tosti, M. Grever and J. del Moral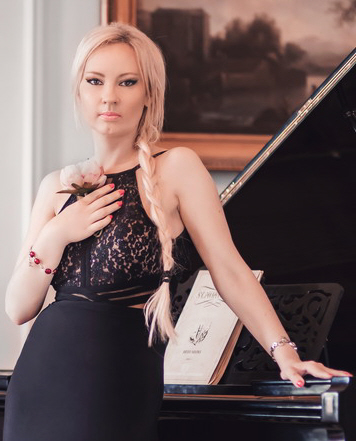 Polish born, Dominika Zamara earned a Master's degree in Opera from the University of Music in Wroclaw, Poland. Living in Venice, Italy, her career has taken her around the world.
"Dominika Zamara is one of the world's foremost sopranos with a prolific career spanning four continents. Her elegant vocal grace and raw musicianship make her one of the most sought-after singers of our time." Kevin Meidl, conductor and artistic director of the Badger State Women's Choir.

Juan Pablo Horcasitas: Praised for his strong rapport and superb cantabile, he is one of the most versatile musicians of his generation. Since his solo debut at Carnegie Hall in New York City in 2009, he has been actively performing and collaborating with many artists. As the first-prize winner at the "Manuel de Falla" Piano Competition in Mexico City, he has performed in the main concert halls in Mexico, including Palacio de Bellas Artes, Carlos Chávez, and Blas Galindo concert halls as well as at the Mexican Fine Arts Museum Center in Chicago, the Banesco Auditorium in Caracas, Teatro Nacional in San Salvador and the Steinway Hall and Museo del Barrio in New York. His most recent presentations include Berlin, Dubai, and Abu Dahabi recitals.
From 2009-2022 he was a faculty member at the Filomen M. D'Agostino Greenberg Music School –for the visually impaired. He also served for many years as a piano faculty at the Diller Quaile School of Music in New York City. He currently works as the Piano Department Chair and Piano Faculty at the Wisconsin Conservatory of Music.

The event is free and open to the pub.lic