author: IRENA FRACZEK

Do Something Polish to celebrate


POLISH HERITAGE MONTH

October is Polish Heritage Month, a month in which Americans of Polish descent (about 10 million strong) are especially proud of their roots, Polish achievements and over 400 years of their presence in the lands of the contemporary USA.
Some fun and interesting things to do in October 2020 are listed below
this short account of how come October became the Polish Heritage Month.
From President Reagan's Proclamation 5229 signed on August 17, 1984:
The millions of Americans who trace their ancestry to Poland have made vast contributions to our Nation. Tadeusz Kościuszko and Kazimierz Pułaski crossed the ocean to help the American colonies win their independence. Throughout the last two centuries, thousands of Polish Americans have fought bravely to help preserve that independence. Polish Americans have also made outstanding contributions in the arts, the sciences, and in industry and agriculture. Through these efforts they have helped in innumerable ways to establish a strong and free United States.
The story goes back to the first celebration of Polish Heritage that took place in Philadelphia in August 1981. The event was organized by Michael Blichasz, the President of the Polish American Cultural Center in Philadelphia, with assistance of Polish American Congress, Eastern Pennsylvania District (and since 1986, the national Polish American Congress).
Amid the event's rising popularity, growing national interest and succeful lobbying, U.S. Representative Robert Borski (D-PA-03) sponsored House Joint Resolution 577 aiming to designate the month of August as "Polish American Heritage Month." The H.J.R 577 became public law after President Ronald Reagan signed it on August 7, 1984.
Just ten days later, he issued Proclamation 5229 in observance of this occasion and paying tribute to four great sons of the Polish nation: Tadeusz Kościuszko, Kazimierz Pułaski, Pope John Paul II and Lech Wałęsa.
President Reagan continued to issue similar proclamations every year through the end of his presidency but in 1986, the Polish American Heritage Month was moved to October. This was done partly to help schools organize celebrations during the school year, and in part to coincide with the arrival of the first Polish settlers in Jamestown, Virginia on October 1, 1608 (twelve years before the Pilgrims reached the Massachusetts). October is also the time to commemorate the deaths of Polish heroes of the American fight for independence: Kazimierz Pułaski (October 11, 1779) and Tadeusz Kościuszko (October 15, 1817).
---
Some fun and interesting things to do in October 2020
CHECK OUR CALENDAR FOR MORE EVENTS AND DETAILS
"Poland: A History of Political Elections and Important Anniversaries"
A three part course offered by the Osher Lifelong Learning Institute at University of Wisconsin-Milwaukee. Lectures are delivered on October 6, 13 and 20 via Zoom. For cost and other details, visit the event's page in our calendar.
A Polish Mistress of the Brush: OLGA BOZNAŃSKA, a Kosciuszko Foundation webinar about one of the most renowned Polish female painters taking place on October 7 , recording is now available on youtube .
October 8th is the National Pierogi Day in the United States.
Talking about the Polish food, a new round of the FLAVOR of POLAND episodes airs on Saturdays at 12pm on the flagship Wisconsin PBS channel (WPT-1). The series is also broadcast in lower resolution on the Create (WPT-3) channel on Mondays at 11 am and 3 pm, with repeats on Saturdays at 10 pm.
Our club is a proud sponsor of the series.
Meet Krzysztof Meyer, one of the greatest modern Polish composers invited to deliver the 2020 PENDERECKI LECTURE-RECITAL, in the renewned Polish Music Center in California. This annual event commemorates Ignacy Jan Paderewski (1860-1941), a pianist, composer, politician (the first prime minist-freeer of independent Poland after WWI), humanitarian, and orator, who was greatly acclaimed as a virtuoso musician and a statesman. Links to pages with lots of information available on the lecture's page in our calendar.
Tune in to hear the MadPolka DJ Szymon Woźniczka spinning some awesome Polish music between 9am - 12pm on October 12 and October 26.
On October 13th, Milwaukee's Jewish Museum hosts a virtual tour of POLIN Museum of the History of Polish Jews in Warsaw, Poland. A Q&A session follows this guided tour.Visit our calendar page for more information.
Between October 1 and November 18, Polish Film Festival Miami (PFFM) streams a documentary series GET TO KNOW POLAND: PODKARPACKIE, a cinematic journey through the pristinplee beauty and rich culture of the region:
Open Range/Wypasiony Raj (2017) by Rafał Gużkowski
The Residents of Moczary/Moczarowi mieszkańcy (2016) by Rafał Gużkowski
Master and Apprentice/Mistrz i uczeń (2020) by Katarzyna Mazurkiewicz
The Armorer Must be a Musician/Płatnerz musi być muzykiem (2017)
by Katarzyna Mazurkiewicz
Streaming is free but you need to create an account at the PFFM website.
---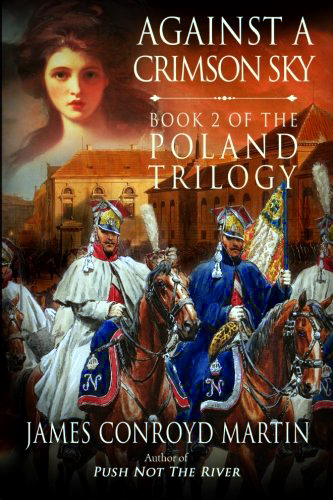 November 10, 2020 at 7 pm
PHC BOOK Club meets to discuss

AGAINST A CRIMSON SKY
by James Conroyd Martin
From the author's website: " With Napoleon Bonaparte's ill-fated campaign to conquer Russia as a backdrop, Against a Crimson Sky manages to turn the wily emperor's exploitation of Polish patriotism into a classic read that lovers of Push Not the River will devour. James Conroyd Martin brings back the characters that made his first novel so compelling, deftly weaving their daily lives into the panorama of war and turmoil that consumed Poland in the early nineteenth century. What's remarkable about Martin's work is its authenticity, rooted in the actual diary of a Polish noblewoman. Martin creates a romantic canvas of epic proportions, bringing vividly to life seldom-invoked events in European history. He portrays a world of hardship and heart in marvelously rendered 'little pieces of happiness stolen from a tapestry of turmoil, war, and separation.'" ~Leonard Kniffel, Editor-in-chief of American Libraries and author of A Polish Son in the Motherland: An American's Journey Home"
VISIT THE PHC BOOK PAGE for more information about the book
---