The PHC Book Club
The Book Club members read and discuss with fellow participants a variety
of books about Polish heritage and/or written by Polish authors .
Here is the list of books we have explored over the years.
---
NEXT MEETING: 7pm on August 1, 2017

TOPIC: "Joseph CONRAD Korzeniowski
3 December 1857 – 3 August 1924 


click here for location and other information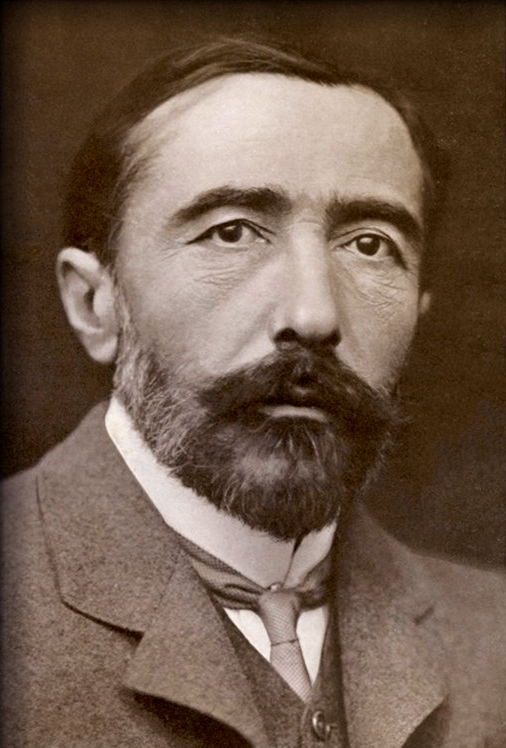 Joseph Conrad (1857-1924) is one of the leading figures in the world's literature and one of the greatest novelists to ever write in English (despite acquiring it only in his twenties). He was born in a fiercely patriotic Polish family as Józef Teodor Konrad Korzeniowski but favored his middle name Konrad received in tribute to poetic works of the great Polish poet, Adam Mickiewicz (Dziady and Konrad Wallenrod). He left Poland in 1874 and began a career in merchant fleet (19 years) resulting in the experiences becoming later a backdrop for the prolific literary work. Translated into many languages and exerting influence on many great writers, his most famous novels include Lord Jim, Nostromo, The Nigger of the 'Narcissus', The Secret Agent, The Shadow Line and Under Western Eyes (banned in the communist Poland). But Heart of Darkness remains his most influential work with adaptations for music and opera scenes, radio and theatre plays, TV productions, motion pictures (Apocalypse Now and Heart of Darkness) and several video games. Conrad's story entitled "The Duel" ("Point of Honor" in the United States) was adopted in the screenplay for the movie The Duellists.
---
LAST MEETING: 7pm on May 9, 2017

TOPIC:     "The Crooked Mirror: 
A Memoir of Polish-Jewish Reconciliation" 

by Louise Steinman

click here for location and other information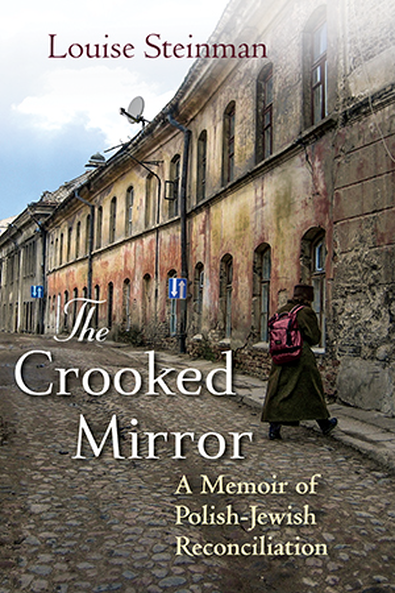 David Ulin: Steinman ... seeks to make a literary reconciliation: exploring the treacherous subject of Polish Jewry through the filter of her family's roots. It's an elegant endeavor, deft and revealing in both private and public ways. As in her previous effort, "The Souvenir," Steinman is adept at questioning assumptions, encouraging us to see the world, and history, in broad and complex terms. "Until I went to Poland," she tells us, "I hadn't realized that it was a country in my head too." (Los Angeles Times, September 12, 2013).
Piotr Florczyk: "With remarkable generosity and an unwavering sense of purpose Louise Steinman writes about the people she meets and the places she visits in Warsaw, Kraków, Radomsko, Vilnius, Lublin, Sejny, Paris, L'viv, and Kolomyja, and finding that things are in fact changing for the better. For those still unconvinced, this book is the proof and the way forward." (Los Angeles Review of Books, November 2, 2013)
J.Hoberman: " Soon after, Steinman discovers that, during the German occupation, some of her Radomsko relations had been saved from certain death and sheltered by a Gentile neighbor. And after that she learns the bitter truth that such wartime courage may be as much a stigma as mark of heroism.
Steinman doesn't much employ the Hebrew term "tikkun olam" (the task of "repairing the world"), but that's essentially what her book is about. In a touching grace note, "The Crooked Mirror" ends in Radomsko with a public tribute to the son of the first local inhabitant to be publicly identified as a rescuer (and consequently honored as a Righteous Gentile by Yad Vashem). It's a recognition that, in her innocence and tenacity, Steinman essentially brought about." (Los Angeles Times, November 15, 2013)
From Steinman's blog: Among the Righteous, on the passing of Marian Bereska
---
FIRST MEETING: 7pm on February 21, 2017
TOPIC:      Middle Ages in Kraków  AD 500-1500
    
                         click here for location and other information
Suggested books:
IN MADISON PUBLIC LIBRARY:
The Trumpeter of Krakow by Eric P. Kelly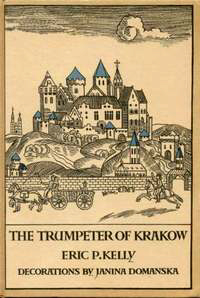 This historical novel for young adults tells the fictional story of a Polish noble family from Poland's Eastern Borderlands (called Kresy). In 1461, the family of Andrew Charnetski flees henchmen of Ivan III of Russia (Iwan III Srogi) searching for a mysterious crystal that remained under the family's guard but was ultimately to be delivered to Polish king. While in Kraków, Andrew Charnetski accepts a job of trumpeter playing the St. Mary's Trumpet Call (Hejnał mariacki) from the tower of St. Mary's Church (Kościół Mariacki). The crystal is eventually delivered to king Casimir IV Jagiellon (Kazimierz Jagiellończyk) but ends up being thrown into the Vistula River (Wisła).
Published in 1928, the book won the 1929 Newbery Medal awarded every year to the authors of "the most distinguished contribution to American literature for children." The book was also the first ever to attribute the death of a legendary trumpeter to the Tatar arrow piercing his throat during Mongol invasions. Eric P. Kelly (1884-1960) was a professor of English at Dartmouth College (1921-1944) but spent several years in Poland. During the Polish-Soviet war (1919-1921), he accompanied the Haller's Army as a volunteer for Les Foyers du Soldat (one of three welfare organization including also the Red Cross and the Y.M.C.A). Then in 1925-1926, he was the Kosciuszko Foundation exchange scholar at the Jagiellonian University in Kraków. Finally, Kelly spent years 1930-1931 in Wilno (currently Vilnius) and Lwów (currently Lviv), then within Polish borders,  producing other books for children based on local legends.
The King Krakus and the Dragon by Janina Domanska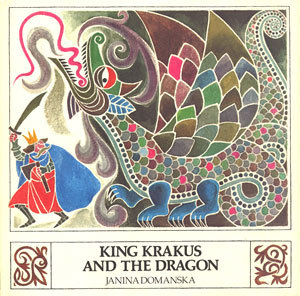 "Janina Domanska is a Caldecott honor book winner, hers picture books consistently won critical praise as well as popularity. Domanska has found her inspiration in Polish folk art. She also is the creator of the gorgeous illustrations that harmonize the Polish legends. The book "King Krakus and the Dragon" is an old Polish folktale that tells story about Dratewka, the shoemaker's apprentice, who by a clever trick was able to kill Dragon. This story was always my favorite. As a child I loved visited Wavel and dragon's cave and visualized this huge dragon who lived by river Vistula and terrify Krakow's residents" (from GoodReads website)
"A Caldecott Honor winner in 1971 for If All The Seas Were One Sea, Domanska also illustrated the Newbery Medal Winner, The Trumpeter of Krakow. Her beautiful artwork, based on Polish folk-motifs, is a wonderful complement to the story, which should appeal to folklore enthusiasts young and old" (from LibraryThing site)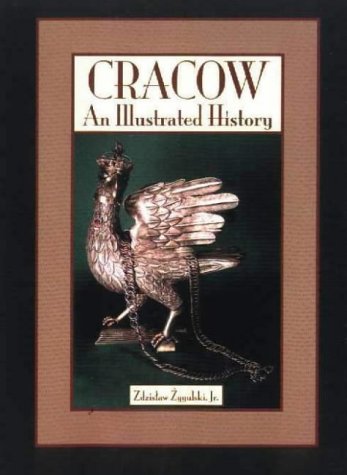 From ONLINE booksellers
Cracow: An Illustrated History by Zdzisław Żygulski
This concise volume offers the reader a panoramic view of Cracow, from its mythical founding to its designation as a European City of Culture in the twenty-first century. Enriched by fifty illustrations and photographs, it explores the city's continuing role as Poland's cultural, social, and educational centre (from Amazon website)
A History of Krakow for Everyone by Jan M. Małecki
"It is a fascinating story of the history of Krakow, and a superb guide, peppered with curiosities, anecdotes and quotes from primary sources. It recounts the most important and interesting events in Krakow's history, profiles its most colorful characters, and outlines key circumstances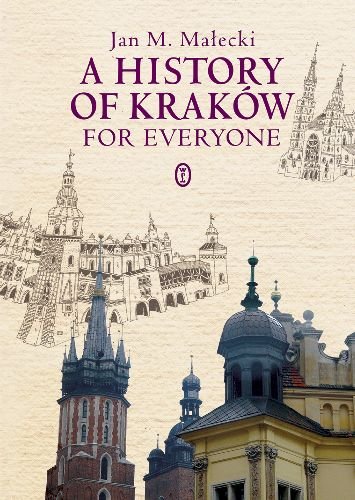 that have shaped its development. This book is a must for all tourists and of Krakow who want to learn more about what makes the city tick." (from Amazon website).
"Though I still tend to confuse the times of rule of Polish kings, their wives and children, the history of Krakow seemed to explain the political situation to show the reader the political context in which Krakow was at the certain time. It is created like a story that one reads very quickly, but at the same time it provides dates and specific information that are necessary for understanding the history of the city. The book offers its readers couple of idle pictures, referring to Krakow or Polish history, and loads of information that are divided into the most important periods of city's life. Not only one can get to know Polish kings and princes, and the events that influenced their rule, but also individuals that influenced Krakow and its past. Important facts, however, do not 'bomb' or scare the reader with its amount but enable them to get the idea of the past of the city. The book at some points gives the feeling of reading belles-lettres rather than history but still helps to get the basic overview on Krakow's history (from BellaOnline website)
---