The PHC Book Club
The Book Club members read and discuss with fellow participants a variety
of books about Polish heritage and/or written by Polish authors .
Here is the list of books we have explored over the years.
---
THIRD MEETING: 7pm on August 13, 2018

Topic: STORIES FROM THE COMMUNIST ERA IN POLAND

click here for location and contact information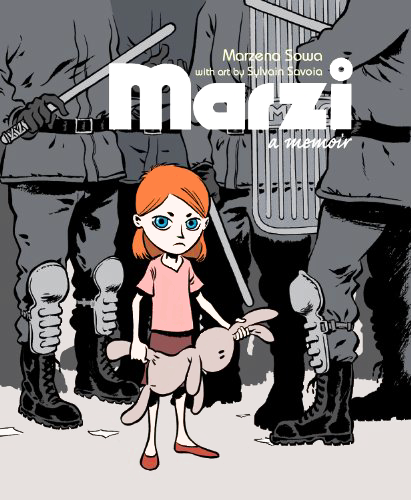 MARZI: A Memoir
by Marzena Sowa (text) and
Sylvain Savoia (illustrations)
This graphic novel tells the true story of Marzena Sowa growing up in Stalowa Wola, when Soviet control over Poland was slowly coming to the end. Presented as a series of vignettes, the memoir spans a decade between Marzi's birth in 1979 and the landslide victory of Solidarity in the 1989 elections. [In 1988, around 10,000 workers of the arms-producing Steelworks in Stalowa Wola went on strike that was dubbed "the fourth nail in the coffin of Communism."] This English edition of works by the Polish writer and her Belgian boyfriend combines four collections of comics originally published in Belgium.
S.M. Robare's review on the Amazon website: "... Getting a chance to peek behind the iron curtain and to see what Polish life was like was fascinating, particularly because it illustrated how normal the day to day really was. There are a lot of interesting shorts, like what it was like preparing for the Christmas dinner by keeping a live Carp in the bathtub for a few days, or the routine of waiting in lines for grocery staples. But what surprised me the most was the overall tone of the stories and how honestly Sowa presents herself as sort of a bratty spoiled child. Simply judging from the cover illustration, which features a young scowling Marzi awkwardly manhandling a plush bunny, tiny amongst a sea of Polish soldiers in riot gear, you get the impression that this would be a darker memoir about the struggle and hardships of life. While this is certainly a part of the backdrop to the story, it's actually more upbeat and a tad whiney..."
Michel Scott's review on the goodreads website: "... Double-speak and double-life, the main elements of surviving life under Communism, were well represented in this novel. The staged marches of joy accompanying the 1st of May (the international day of Communism) vs the silent resistance (here: turning off tvs, wearing resistors at the sleeve). The empty fridges vs the joyous birthdays staged for the kids. The angry sellers at the department store, more like little dictators of necessary resources than employees providing services. The expectation that Communism will imminently fall vs the surprise and total loss of lucidity when it did..."
THE DOG CALLED HITLER
by Walerian Domański
A collection of 63 short stories using humor, satire and grotesque to give readers insight into the hardships of every-day life and struggle of Polish people's to survive under the oppressive and dehumanizing communist regime.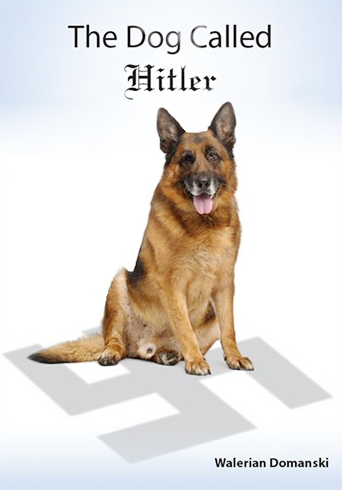 The KIRKUS Review: "An eclectic gathering of short stories illustrating the burden of communism. Domanski's debut collects stories, often based in truth, devoted to Polish anti-communist activists. The brief pieces, some barely two pages, aim to capture the moral confusion and physical deprivation wrought by authoritarian communistic rule. Besides functioning as cautionary tales about tyranny begotten from political idealism, each one is like a moral parable, describing a struggle the author encountered... .... The author admits that some of these remembrances are woven out of both fact and fiction—and some are simply fictional—but this doesn't detract from the power of the writing's moral instruction. Never tediously didactic, this is a beautifully written collection of historically poignant vignettes. A serious set of meditations on communism delivered with style and wit..."
Janelle Fila's review on the Readers' Favorite website: "... I liked the way these short stories alternated between humorous and satirical, happy and depressing. It was a nice mix and really showed what life could be like: cruel and harsh one day, but with benefits and high spots the next. Readers will appreciate the historical content of this book and marvel that many of these scenes and tales are based in truth. Readers will come away from this story, shaking their heads because of the sadness and despair that fills the pages, but also come away with a new found resolve. If the poorest, most destitute people can find a way to survive and thrive, surely so can we..."
About the author: Before arriving to the United States in 1986 as a political refugee, Walerian Domański joined the Solidarity movement during the 1980 wave of strikes in Poland. He was a Solidarity organizer in the state-owned construction factory in Świdnik and later became an editor of the regional underground publication "Nothing About Us Without Us" (Nic o Nas bez Nas) published in Dzierżoniów. He participated in the historic First National Solidarity Convention (9/26-10/9/1981) as a delegate from Lower Silesia. He also took part in the successful action of hiding the printing presses housed in the regional Solidarity office (12/3/1981) and just two weeks later, was briefly arrested after Poland's communist government declared the martial law (12/13/1981). For the remainder of his years in Poland (1981-1986), he was involved in the publishing and distribution of the underground press materials.
Mr. Domański is a member of the Barnes&Noble writers' group in Rochester, MI and recipient of the Kresge Fellowship and three awards from the Friends of Polish Arts in Detroit, MI. He wrote his first stories in 1968 and started creating cartoons in 1977. He holds the master of science degrees in structural engineering (from the Technical University in Wrocław, 1967) and civil engineering (Wayne State University, 1994).
.............................►check also this pdf with supplemental information◄
---
SECOND MEETING: 7pm on May 1, 2018

Topic: "Freedom Climbers:
The Golden Age of Polish Climbing"


click here for location and contact information
Patrice Dabrowski (Cosmopolitan Review): "Hard to put down, Freedom Climbers is expertly and engagingly penned by Bernadette McDonald, the author of a number of prize-winning books on mountaineering. This time she has painstakingly pieced together a story of the over two decades of Himalayan exploits of Polish climbers, women as well as men, many of whom she knew personally. The figures and events of the glory days of Polish mountaineering are brought vividly to life. Both story and book are fully deserving of the years of attention lavished on them. A sign that McDonald's effort has been appreciated by more than the present reviewer: Freedom Climbers has already won three prestigious book awards, has been translated into Polish and is being translated into other languages....
Born during or following World War II, these Poles surmounted hurdles that climbers from the west could hardly imagine. Living in an unfree country – communist-ruled Poland – they surmounted difficulty after difficulty to become the dominant climbing dynasty. McDonald is sensitive to the particular circumstances that shaped Polish high-altitude climbing: the chronic shortages of food supplies and nonexistence of proper alpine equipment within Poland, the insufficient funds to cover international travel and expenses even when climbers were granted permission to leave the country, the disconnect between the communists' penchant for control and the alpinists' premium on freedom. The best Polish climbers were masters of the art of the seemingly impossible. Unafraid of taking risks, they bent rules back home as well as abroad (for example, engaging in black market trading on an international scale to finance their trips) in order to be able to reach the rarified realm of the mountains, where they felt truly alive."
Quill & Quire Review: "McDonald introduces readers to a cast of characters who rebelled against the oppression and poverty of postwar Poland by dedicating their lives to breaking climbing records, chronicling these climbers as they bag first-route ascents, first winter ascents, and first multiple ascents. Their daring often resulted in death, but McDonald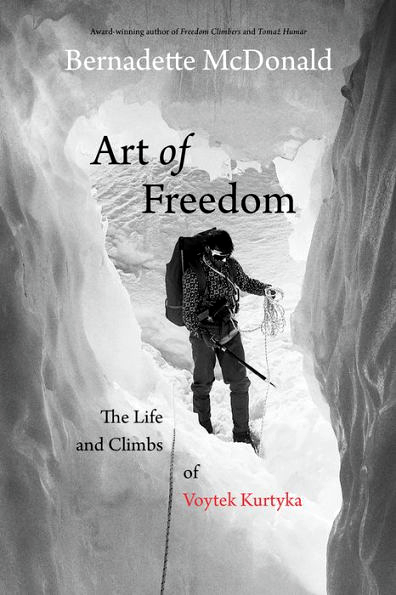 does not condemn them for an ambition that at times seems no more admirable than a death wish. As the death toll rises, readers learn that big egos on big mountains cause big problems, infusing McDonald's narrative with drama, conflict, and high stakes.
The book offers an unflinching examination of the psychology of risk, the extent to which one's personality is shaped by one's time and place, the connection between nature and spirituality, and the danger of egotism. McDonald asks big questions and does not succumb to easy answers. She shows the lengths to which these climbers went to imbue their lives with meaning, and then asks: was it worth it?"
First published in 2011, the book Freedom Climbers won the Banff Mountain Book Festival Grand Prize (2011), Boardman Tasker Prize for Mountain Literature (2011) and American Alpine Club Literary Award (2012). In 2017, Bernardette McDonald won the Boardman Tasker Prize again - this time for her new book about Polish climbers, Art of Freedom: The Life and Climbs of Voytek Kurtyka.
---
---
---
FIRST MEETING: 7pm on February 6, 2018

TOPIC: "The Chosen Maiden"


click here for location and contact information
Dana Hansen (Quill & Quire):  "Many works of fiction take as their inspiration true events and persons of historical significance, but few do so as lovingly and imaginatively as Eva Stachniak's fifth novel. The Chosen Maiden is a fictionalized account of the remarkable life and accomplishments of ballet dancer and choreographer Bronislava (Bronia) Nijinska, sister to the legendary Russian ballet dancer Vaslav Nijinsky. Set in the years 1894 through 1939, and told from Bronia's perspective, The Chosen Maiden delves into the workings of an artist's mind and reveals the resiliency of art in a time of worldwide political upheaval and war... "
As children of distinguished Polish-born dancers, Bronia, Vaslav, and their older brother, Stassik, find themselves destined for a competitive life in the all-consuming world of the ballet. Vaslav quickly emerges as a rising star in the Russian Imperial Ballet School, overshadowing his younger sister, who is no less ambitious or talented. For Vaslav, fame and accolades come easily and opportunities present themselves to dance on world stages with Sergei Diaghilev's newly formed Ballets Russes. Bronia is swept along in her famous brother's wake, given small roles to dance, but always dreams of moving beyond her classical training to newer, more modern and exciting ways of dancing: 'Ballet needs a revolution, we say. Of colour, of music, of movement. Russian art needs freedom from the past.'".
Hellen Heller (Publishers Weekly):  "The book takes readers into the controversial 1913 premiere of Stravinsky's The Rite of Spring, in which Vaslav casts Bronia as the Chosen Maiden who dances herself to death, and then follows them both into adversity. Stachniak brilliantly brings the story of Bronia, the lesser-known Nijinsky, to life. She has an excellent command of the period and the dance world, and an ability to draw characters who will enrapture the reader..."
Maria Pelletier (Cosmopolitan Review):  "Chosen Maiden, a novel about Nijinska, also tells us a lot about her times, specifically in the waning days of Imperial Russia. The book ends in 1939, on a ship to America, as the Second World War begins. She is heading towards a new place, hoping to "find the strength for another struggle", after devastating personal losses. I am not sure why the author chose to end Bronia's story at this stage of her life, though it is clearly a turning point. I was moved to research her later life to see what happened to her in America, so I would have welcomed a postscript with additional details of her life after 1939.....
Chosen Maiden, rescuing Nijinska from her brother's shadow, reveals an artist, one who knows that "to excel, I have to be strong, resilient, see more, understand what is hidden to others", and also, as her brother told her, that "Art is all that matters, Bronia. Everything else is distraction."
Youtube video discussing the art and people of the time