The PHC Book Club
The Book Club members read and discuss a variety of books
about Polish heritage and/or written by Polish authors.
Here is the list of books we have explored over the years.
---
FOURTH MEETING: 7pm on November 19, 2019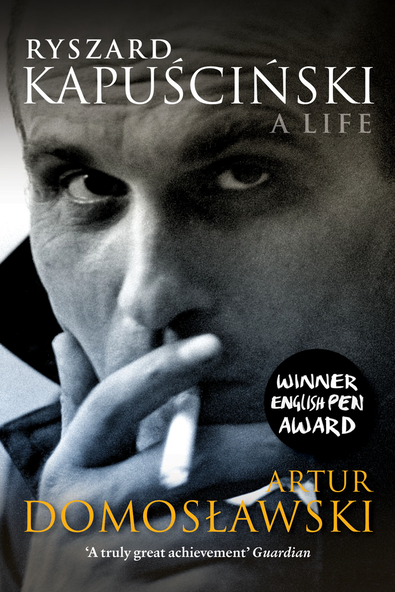 location and contact information
Ryszard Kapuściński: A Life
Original title in Polish: Kapuściński Non-Fiction
From the Verso Books website : "The life and work of Ryszard Kapuściński was dangerously bold and deeply enigmatic. This controversial biography opens up the secrets and contradictions of this globally renowned Polish journalist and writer.... Artur Domosławski travels the globe, following in Kapuściński's footsteps, delving into his private conflicts and anxieties and discovering the relationships that were the catalyst for his unique style of 'literary reportage'. The result is a compelling and uncompromising portrait of a conflicted and brilliant individual."
Agata Pyzik in The Guardian: "Kapuściński" has long been one of Poland's few internationally recognised names, comparable to "Miłosz" or "Polanski". His vivid literary reporting of the uses and misuses of power, in the books The Emperor, The Soccer War and Shah of Shahs, was widely read in the 1980s and beyond, partly because of the author's unique position (a star reporter emerging from the darkness of communist Poland, then in the midst of martial law after a failed workers revolt) but mainly for its unusual style – personal, meticulous, literary, digressive. Both the author and his "hero", friend and mentor stand out from what was acceptable during the cold war, and today."
The New Yorker: "Domosławski's biography, despite concentrating on the scandal to the point of neglecting other aspects of Kapuściński's life and work, tends to suspend judgment. He seems fascinated by moral gray areas—Kapuściński neglected his family, had affairs, spied for Poland's government, and maintained his Party membership until 1981—but always takes a lenient view. He praises Kapuściński's work as "non-fiction which does not hold fiction in contempt" and accepts the writer's view that "committed, 'non-objective' journalism" is a way of restoring "dignity to the man from the Third World, disdained and humiliated for centuries."
Jack Shafer in the Slate Magazine: "John Updike worshipped him. Gabriel García Márquez tagged him "the true master of journalism." But there's one fact about the celebrated war correspondent and idol of New York's literary class that didn't get any serious attention this week. It's widely conceded that Kapuściński routinely made up things in his books. The New York Times obituary, which calls Kapuściński a "globe-trotting journalist," negotiates its way around the master's unique relationship with the truth diplomatically, stating that his work was "often tinged with magical realism" and used "allegory and metaphors to convey what was happening."
"Ryszard Kapuściński: Where does journalism end and literature begin?"
Panel discussion including the book author, Artur Domosławski
Paul Kahn in Cerise Press: "The book about Haile Selassie can also be read as a book about Edward Gierek's government in Poland. When I read The Emperor, Kapuściński's account of the final years of the Emperor of Ethiopia described by unnamed employees in the palace, I had no idea the Polish readers of each installment appearing in the magazine Kultura saw it as a political satire of their own government. The hidden meaning of the book was such general knowledge that it was turned into a stage play in Warsaw to further embarrass government officials attending the performances."
Agata Pyzik in The Guardian: "The constant speculation about the level of Kapuściński's engagement with the regime means that this biography reads at times like a John le Carré novel. The question of identity, of image, of truth, of confabulation, shifts constantly and gains new meanings, turning the book into a quest for Kapuściński's personality. Who was he? Not even his family or close friends are really able to answer."
Only one copy of the book is available in the Madison Public Library
The book can be purchased through Amazon, Barnes and Nobles and AbeBooks
---
THIRD MEETING:7pm on September 24, 2019

click here for location and contact information
Irena's Children:
The Extraordinary Story of the Woman Who Saved 2,500 Children from the Warsaw Ghetto
From the publisher website: "From the New York Times bestselling author of The Widow Clicquot comes an extraordinary and gripping account of Irena Sendler—the "female Oskar Schindler"—who took staggering risks to save 2,500 children from death and deportation in Nazi-occupied Poland during World War II."
A Million Ways to Die in the Ghetto: "As a Catholic social worker, Irena created and maintained an underground railroad to spirit children out of the Warsaw ghetto and into safety, literally putting her own life at risk day after day for years on end. This is her amazing, carefully researched, dramatically told story of noble spirit, boundless energy, cheeky deception, and personal courage worthy of the bravest Navy SEAL."
Saved more Jewish children during the Holocaust than Schindler: "...she took daily risks, going into the Ghetto and then talking Jewish families into giving up their children to her, based on just the hope that they would be safer with her organization than left with their families. (In most cases, the children were hidden in convents and among sympathetic Polish families, who all knew they risked their lives and their family's lives by taking in Jewish children)."
Talking about "Irena's Children" with author, Tilar Mazzeo
Should be Required Reading for All: "Most people have only the slightest understanding of what happened in Warsaw under the Nazis. The Germans were determined to eliminate from the face of the earth any trace of the Jews but also the Poles)."
Important that their story be told and never forgotten": "Smuggling anyone out of the ghetto came at great risk. If caught the Nazi's did not hesitate to kill. The Nazi's would kill the child and anyone assisting. If you assisted a Jew the Nazi's would also kill your family ... while you watched ... and then kill you. Irena Sendler never hesitated though when it came to helping others……. In 1965 the Holocaust memorial organization in Israel awarded Irena Sendler it's highest honor. They added her name to the list of those who are "Righteous Among Nations" and planted an olive tree in her honor on the Mount of Remembrance. The Soviets refused to authorize a passport so that Irena could travel to Jerusalem to accept the award. In 2003 some of the children she helped save wrote a joint letter nominating Irena Sendler for the Nobel Peace Prize. They nominated her again in 2007....."
Multiple copies and formats of the book are available in the Madison Public Library
The book can be purchased through Amazon and Barnes and Nobles
---
SECOND MEETING: 7pm on May 21, 2019


click here for location and contact information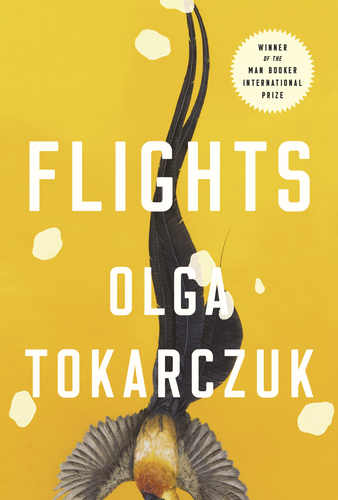 Translation: Jennifer Croft
Original title: BIEGUNI
Sean Gasper Bye (World Literature Today): "One of Europe's most important and original voices finally, after many years, has a new book on the English-language market. Olga Tokarczuk (pronounced toh-kar-chook) is Poland's greatest living novelist, an author of endless variety, as popular as she is controversial in her homeland. There, Tokarczuk's books are regular best-sellers, have been adapted into films, and set the national discussion in a way many writers can only dream of. "
Penguin Random House website: "From the incomparably original Polish writer Olga Tokarczuk, Flights interweaves reflections on travel with an in-depth exploration of the human body, broaching life, death, motion, and migration. Chopin's heart is carried back to Warsaw in secret by his adoring sister. A woman must return to her native Poland in order to poison her terminally ill high school sweetheart, and a young man slowly descends into madness when his wife and child mysteriously vanish during a vacation and just as suddenly reappear. Through these brilliantly imagined characters and stories, interwoven with haunting, playful, and revelatory meditations, Flights explores what it means to be a traveler, a wanderer, a body in motion not only through space but through time. Where are you from? Where are you coming in from? Where are you going? we call to the traveler. Enchanting, unsettling, and wholly original, Flights is a master storyteller's answer."
Watch Olga Tokarczuk explaining her work on Flights, a literary collage she dubs herself "the constellation novel." While the book's English title makes a straightforward connection to air travel, the Polish title "Bieguni" conveys a deeper, metaphysical meaning. The word "bieguni" derives from the Russian name "beguny (runners) referring to a small branch of Old Believers, a denomination that formed after a schism in Eastern Orthodox Church. Bieguni believed that you cannot fight evil ruling the world. Instead, you should keep moving (mentally and physically) because evil powers are the greatest when people stand still. This became a motif underlying the wanderings described in the book.
Zoë Hu (BookForum): "The book is like a map: including disparate parts not because they cause or connect to each other, but because their contours help clarify a wider, impersonal whole. In this way, Tokarczuk shows that even the loneliest traveler fits into a bigger scheme. In travel, "people are forced to be together, physically, close . . . as though the aim of travel were another traveler." Even during flight, we find that, in ways both sinister and touching, we cannot escape each other."
Lisa Appignanesi (Chair of the International Man Booker Prize judging panel): "In Flights, brilliantly translated by Jennifer Croft, by a series of startling juxtapositions she flies us through a galaxy of departures and arrivals, stories and digressions, all the while exploring matters close to the contemporary and human predicament – where only plastic escapes mortality."

...............................

Winner of the 2008 NIKE AWARD (Poland's highest literary prize)
Winner of the 2018 MAN BOOKER INTERNATIONAL PRIZE
Named the BEST BOOK OF 2018 by Entertainment Weekly,
The Washington Post, Boston Globe, Literary Hub and Publishers Weekly
Shortlisted for the 2018 NATIONAL BOOK AWARD FOR TRANSLATED LITERATURE
Shorlisted for the 2018 WARWICK PRIZE FOR WOMEN IN TRANSLATION
Tokarczuk's "Drive Your Plow Over The Bones Of The Dead" (2009)
has been shortlisted for the 2019 Man Booker International Prize
---
FIRST MEETING: 7pm on February 12, 2019


click here for location and contact information

303 SQUADRON: The Legendary
Battle of Britain Fighter Squadron
From the Aquila Polonica Publisher: "Thrilling action story of the celebrated squadron of Polish fighter pilots whose superb daring and aerial combat skills helped save England during its most desperate hours. The 303 "Kościuszko" Squadron flew with the RAF, downing three times the average RAF score, while incurring only one-third the average casualties during the Battle of Britain. Underdog heroes who rose to defend against the deadliest German Luftwaffe attacks, the pilots of 303 Squadron were lionized by the British press, congratulated by the King and adored by the British public "
Adam R. Seipp (Sarmatian Review): "The portraits of the pilots are fascinating by themselves. In the 1943 edition pilots' names remained concealed for fear of reprisals against families in Poland. This edition includes extensive biographical information about a number of these fliers. Their birthplaces and early careers tell a fascinating story about the changing borders of Poland in the early twentieth century and interwar creation of a Polish military establishment. The capsule biographies at the end of this edition also provide a sobering reminder of the terrible toll of air combat and training accidents. Those who survived scattered after the war, some returning to Poland while others sought new lives in emigration."
Irene Tomaszewski (Cosmopolitan Review): "A riveting read, it not only tells the story but captures the mood of the epic battle that saved Britain, while it celebrates the daring and honorable young men who really lived by their motto: For Your Freedom and Ours."
BLOODY FOREIGNERS: AN UNTOLD BATTLE OF BRITAIN,
the movie about the famous 303 Squadron aired on BBC to commemorate the 70th anniversary of the battle in 2010.
Henry Conigsby (Watford): "The tale of how the second half of that motto turned into the cruellest of jests is widely known. Instead, let us recall them in their days of glory: so brave, so handsome, so young – the laughing hussars of the sky. I think the difference between our two countries is this. If I were not English, I should want to live as a Pole. If the men of 303 Squadron were not Polish, they would not have wanted to live at all."

John Grondelski (Polish American Journal): "The work had previously appeared in 1942 in English as Squadron 303.... ...The original text of the book is supplemented with a chapter on how Polish forces came to be in England, individual biographies of the distinguished airmen of 303 Squadron, and the Squadron's own history (another untold story — the Kościuszko Squadron originated with American airmen who volunteered to fight for Poland during the Polish-Soviet War of 1920, three of whom lie in the famous Eagle's Cemetery in Łwów/L'viv). Over 200 black and white photos fill its pages."

►check also this PDF about two new feature movies about the 303 SQUADRON◄