CREECA podcast of Prof. Donald Pienkos Lecture
in Madison on 9/14/2017
---
---
SECOND MEETING: 7pm on May 1, 2018

Topic:
"Freedom Climbers: 
 The Golden Age of Polish Climbing"


click here for the location and other information
From Barnes & Noble website: "Freedom Climbers tells the story of Poland's truly remarkable mountaineers who dominated Himalayan climbing during the period between the end of World War II and the start of the new millennium. The emphasis here is on their "golden age" in the 1980s and 1990s when, despite the economic and social baggage of their struggling country, Polish climbers were the first to tackle the world's highest mountains during winter, including the first winter ascents on seven of the world's fourteen 8000-meter peaks: Everest, Manaslu, Dhaulagiri, Cho Oyu, Kanchenjunga, Annapurna, and Lhotse. Such successes, however, came at a serious cost: 80 percent of Poland's finest high-altitude climbers died on the high mountains during the same period they were pursuing these first ascents."
Patrice Dabrowski (Cosmopolitan Review): "Hard to put down, Freedom Climbers is expertly and engagingly penned by Bernadette McDonald, the author of a number of prize-winning books on mountaineering. This time she has painstakingly pieced together a story of the over two decades of Himalayan exploits of Polish climbers, women as well as men, many of whom she knew personally. The figures and events of the glory days of Polish mountaineering are brought vividly to life. Both story and book are fully deserving of the years of attention lavished on them. A sign that McDonald's effort has been appreciated by more than the present reviewer: Freedom Climbers has already won three prestigious book awards, has been translated into Polish and is being translated into other languages....
Born during or following World War II, these Poles surmounted hurdles that climbers from the west could hardly imagine. Living in an unfree country – communist-ruled Poland – they surmounted difficulty after difficulty to become the dominant climbing dynasty. McDonald is sensitive to the particular circumstances that shaped Polish high-altitude climbing: the chronic shortages of food supplies and nonexistence of proper alpine equipment within Poland, the insufficient funds to cover international travel and expenses even when climbers were granted permission to leave the country, the disconnect between the communists' penchant for control and the alpinists' premium on freedom. The best Polish climbers were masters of the art of the seemingly impossible. Unafraid of taking risks, they bent rules back home as well as abroad (for example, engaging in black market trading on an international scale to finance their trips) in order to be able to reach the rarified realm of the mountains, where they felt truly alive."
Quill & Quire Review: "McDonald introduces readers to a cast of characters who rebelled against the oppression and poverty of postwar Poland by dedicating their lives to breaking climbing records, chronicling these climbers as they bag first-route ascents, first winter ascents, and first multiple ascents. Their daring often resulted in death, but McDonald does not condemn them for an ambition that at times seems no more admirable than a death wish. As the death toll rises, readers learn that big egos on big mountains cause big problems, infusing McDonald's narrative with drama, conflict, and high stakes.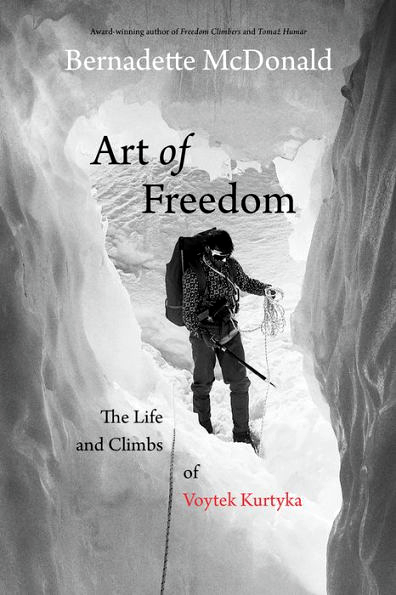 The book offers an unflinching examination of the psychology of risk, the extent to which one's personality is shaped by one's time and place, the connection between nature and spirituality, and the danger of egotism. McDonald asks big questions and does not succumb to easy answers. She shows the lengths to which these climbers went to imbue their lives with meaning, and then asks: was it worth it?"
First published in 2011, the book Freedom Climbers won the Banff Mountain Book Festival Grand Prize (2011),  Boardman Tasker Prize for Mountain Literature (2011) and American Alpine Club Literary Award (2012). In 2017, Bernardette McDonald won the Boardman Tasker Prize for her new book about Polish climbers, Art of Freedom: The Life and Climbs of Voytek Kurtyka.