Tuesday, February 06, 2018, 07:00pm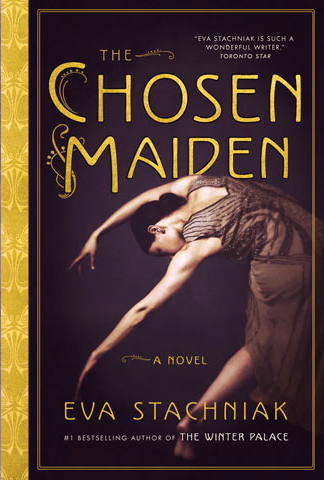 :::::::::::::::::::::::::::::::::::::::::::::::
The Chosen Maiden:

Dana Hansen (Quill & Quire): "Many works of fiction take as their inspiration true events and persons of historical significance, but few do so as lovingly and imaginatively as Eva Stachniak's fifth novel. The Chosen Maiden is a fictionalized account of the remarkable life and accomplishments of ballet dancer and choreographer Bronislava (Bronia) Nijinska, sister to the legendary Russian ballet dancer Vaslav Nijinsky. Set in the years 1894 through 1939, and told from Bronia's perspective, The Chosen Maiden delves into the workings of an artist's mind and reveals the resiliency of art in a time of worldwide political upheaval and war... "
As children of distinguished Polish-born dancers, Bronia, Vaslav, and their older brother, Stassik, find themselves destined for a competitive life in the all-consuming world of the ballet. Vaslav quickly emerges as a rising star in the Russian Imperial Ballet School, overshadowing his younger sister, who is no less ambitious or talented. For Vaslav, fame and accolades come easily and opportunities present themselves to dance on world stages with Sergei Diaghilev's newly formed Ballets Russes. Bronia is swept along in her famous brother's wake, given small roles to dance, but always dreams of moving beyond her classical training to newer, more modern and exciting ways of dancing: 'Ballet needs a revolution, we say. Of colour, of music, of movement. Russian art needs freedom from the past.'".

See the PHC Book Club page for more

LOCATION: MIDDLETON
Please contact Kasia & Marian
at (608) 836-8632
so they can set up chairs